SHOWTIME ENTERTAINMENT GROUP
---
Director Gary Reid started his entertainment career performing water ski shows around the world in theme parks. It was always a goal for ShowTime to return to theme parks, but this time as a live show provider.
In 2014, ShowTime Entertainment Group was formed and became the official live stunt show provider at Movie World on the Gold Coast with the new 'Hollywood Stunt Driver 2' show. With continuing success at Movie World in 2019 the ShowTime team launched a brand-new show at Sea World on the Gold Coast 24 years after Gary's first theme park show on the same lake.
ShowTime Entertainment Group is now Australia's largest theme park live show provider.
Thunder Lake Stunt Show - Sea World Gold Coast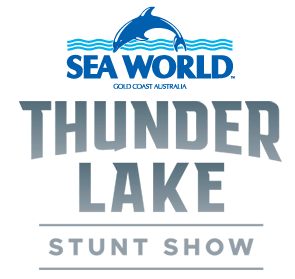 Launched in April 2019, Sea World has partnered with Australia's leading stunt crew, Showtime FMX on the new show which includes some of the best water-ski, jet-ski and BMX performers in the country to take guests on a wild ride on water and land.
Village Roadshow Theme Parks Chief Operating Officer, Bikash Randhawa, said the Thunder Lake Stunt Show is a fast paced, visually spectacular show featuring non-stop action. "The Thunder Lake show centres around the Sun State All Stars and the Bay City River Rats with the two rival groups colliding in a showdown of extreme stunts to once and for all decide who rules the lake," he said. "In addition to the jaw-dropping stunts, the Thunder Lake Stunt Show also features a very funny storyline with one of our characters sure to have the audience in stitches throughout the show."
The Thunder Lake Stunt Show runs twice daily at Sea World to give guests plenty of opportunities to see the best in non-stop action.